Our Mission is…
…to help people understand each other daily by delivering and interacting with periodical information and interpretation pertaining to our times that is relevant, usable, and inspiring from the perspective of countries that touch the Pacific Ocean, addressing topics that range throughout Bible, business, culture, and politics.
Our Values are…
…to listen, making letters to the editor important.
…to be real and original in our content and our concepts, never sacrificing these for cliche, grandstanding, or rank and file scripts.
…to give credit where due and share.
…to acknowledge bias, yet be as objective as possible.
…to cover topics of Church, economics, society, and governments with the underlying ethics of a Judeo-Christian/Biblical worldview, being valuable to readers outside the Christian community, and without being a "Christian" genre.
…to help productive people be more productive through information, ideas, and innovation.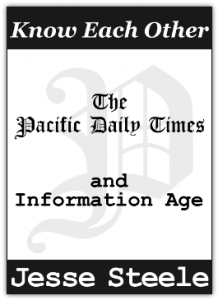 It's available in many ebook stores, or at Smashwords in .epub and .mobi fromats.
Editing…
Our editor, Jesse, is a news junkie who keeps daily records of articles he finds interesting. He logs, comments, and shares those articles for your interest. The editor is not promoted on the front of this site; this is in order to avoid giving his work an unfair advantage over other contributors, so as to invite good writers. He runs his own column on the PDT site, in addition to normal editorial work.
All content of PDT is either original, contracted, credited, and/or meets ethical requirements of "fair use". Regular contributors are not reviewed.
Links in news stacks (such as the Tempo series) are arranged as having a "bibliographic" nature within other posts and are not intended to appear as content of this website itself. Many of these headlines appear on this site the day after content was made public or later, allowing visitors to review historical content from various sources by date, aiming not to impede on the "breaking news" advantage of "real news" sources, operating somewhat as a digital library of the headlines of history.
If you are interested in contributing, please feel free to learn how to Join Us. And we welcome letters to the editor!
Contact us…